General Motors will start selling a highly anticipated two-seater compact electric vehicle (EV) on September 1, launching its second model after last year's wildly successful bestseller Hongguang to capture the lower end of the world's largest market for EVs.
The basic edition of the Cabrio, a two-seater convertible made in partnership with China's SAIC Motor and Wuling Motors, with a driving range of 200 kilometers will be sold for 40,000 yuan (US$5,940), according to local media reports. A long-range version with a range of 300 kilometers will sport a price tag of 60,000 yuan.
The Cabrio was unveiled at last year's Shanghai Auto Show and is being viewed as a potential game changer. It is expected to attract first-time car buyers, analysts said.
"Low-priced pure electric cars with a driving range of about 300 kilometers could attract millions of urban residents," said Gao Shen, an independent analyst in Shanghai. "Most young drivers will opt for a small EV with a modern design."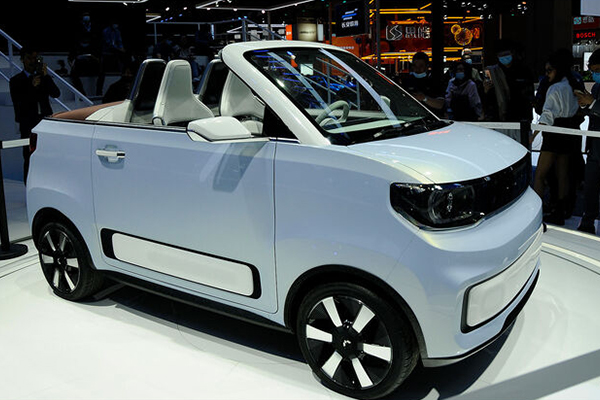 A growing number of young Chinese drivers are moving away from conventional cars to battery-powered EVs. But the smart EVs being built by Tesla and its Chinese rivals, which come with premium features such as preliminary autonomous driving technologies, voice-recognition systems and high-performance batteries, are often beyond their means. These young consumers target cars priced at about 100,000 yuan.
The Cabrio comes with a manually retractable roof. SAIC-GM-Wuling said on Tuesday that it would be sold on a "first-come, first-served" basis. Unlike China's smart EV makers that take pre-orders before delivering cars, it will take orders for cars in stock.
SAIC-GM-Wuling's first model, the Hongguang Mini EV, a compact four-seater with a driving range of 170 kilometrts, starts at 32,800 yuan after the company raised its price by 4,000 yuan in March. It was China's bestselling EV last year with 426,500 units delivered to customers, 33 per cent higher than Tesla's total sales of Model 3s and Model Ys in mainland China.
"The Hongguang and Cabrio EVs – and their likes – have a big market potential to tap in the coming years, because nearly 10 million university students graduate each year [in China]," said Phate Zhang, founder of the Shanghai-based EV news site CnEVpost. "Many of them want to own a car after they start working and a fancy convertible EV could be a first choice."
The EV adoption rate in China is likely to top 30 percent in the coming months, compared to about 26 percent in May, UBS analyst Paul Gong said this month. Total deliveries could surpass 6 million units this year, more than doubling last year's total, Gong said.