General Motors, banking on the success of its mini electric cars, plans to launch 15 new models in China by 2025 to take on front-runners like Tesla in the world's largest electric vehicle (EV) market.
The US carmaker said it will have an annual capacity of 1 million units based on its new EV development and manufacturing platform, called Ultium, by then.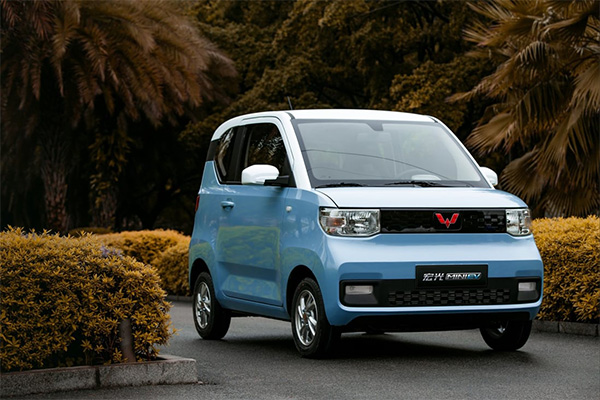 "GM is accelerating the introduction of Ultium-empowered EVs in China to support the market's move toward an all-electric future," Julian Blissett, GM's executive vice-president and president of its China operations, said in a statement. "We are unlocking a transformative experience with real-world benefits for our customers through zero-emission driving."
Ultium is a new EV platform "designed for hyperscale production with flexibility and modularity at its core", according to GM. Brands produced by GM such as Buick, Chevrolet, GMC Hummer, and Cadillac will develop and build new models using it.
GM said electric cars built on the platform – essentially a group of innovations stemming from its Ultium battery technology – will be intelligent and more digitally connected to meet customers' evolving lifestyle needs.
Buick's first model based on Ultium will be officially launched later this year, followed by a Chevrolet model early in 2023, according to Wang Yongqing, general manager of SAIC-GM, a venture between the American carmaker and its Chinese partner, SAIC Motor in Shanghai.
Two factories that use the Ultium platform, one in Shanghai and the other in Wuhan, will have a combined capacity of 1 million units by 2025, GM said.
"Conventional carmakers are striving to play a catch-up game in the mainland's EV market," said Eric Han, a senior manager at Suolei, a business advisory firm in Shanghai. "They must churn out fancy new models to mount a challenge to smart EVs assembled by Tesla and its Chinese rivals."
GM and Volkswagen, through their mainland ventures, have been leaders in the world's largest automotive market, buoyed by strong sales of their traditional, petrol cars.
The breakneck growth of China's EV sector has prompted global marquees to shift their focus from traditional cars to battery-powered vehicles to maintain their market share.
SAIC-GM-Wuling, GM's three-way partner with SAIC and Wuling Motors, has dominated the entry-level EV segment because its Hongguang Mini EV, a compact four-seater with a driving range of 170 kilometres, has been the country's bestselling electric car since it hit the market in mid-2020.
The car starts at 32,800 yuan (US$4,590) after its price was raised by 4,000 yuan in March.
Last year, 426,500 Hongguang Mini EVs were delivered to Chinese motorists, a third higher than Tesla's total sales of Model 3s and Model Ys in the country.
In September this year, SAIC-GM-Wuling started selling a hotly anticipated two-seater compact electric car, named Cabrio, to consolidate its foothold in the mini-EV segment.
The basic edition of the Cabrio, with a driving range of 200km, carries a price tag of 40,000 yuan.
With its Ultium platform, GM is targeting middle-class EV fans in China and will directly compete against Tesla as well as its mainland rivals such as Xpeng and Nio, whose smart vehicles are priced above 200,000 yuan.