China's carmaking sector has taken another beating from the country's pandemic curbs, with companies based in Wuhan and Chengdu forced to halt part of production or sales due to lockdowns there.
Honda Motor, Volkswagen and Dongfeng Motor's electric vehicle (EV) brand Voyah have been affected to varying degrees by a broken logistics network and strained supply chains, and there are no clear time frames for resuming operations, according to statements by the companies and media reports.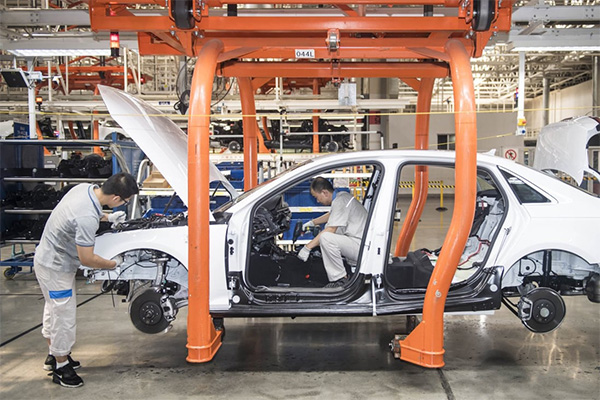 Voyah said in a statement that 14 service centers in 16 cities including Zhengzhou, capital of central Henan province and Shijiangzhuang, capital of northern Hebei province, have been forced to suspend operations since Sunday due to stringent pandemic curbs.
"We are unable to offer repair and maintenance services for now," it said. "Delivery of new cars will also be delayed because of virus controls and logistics issues. We deeply apologise for the inconvenience brought to customers."
The company's headquarters in Wuhan, and the plants in Zhengzhou and Shijiazhuang have been hit by outbreaks of the highly-transmissible Omicron variant, with the national health commission reporting record single-day infections of 38,421 on Tuesday.
Meanwhile, Honda suspended its operations at a plant in Wuhan because a standstill order was issued for the area, according to a Bloomberg report, which cited the company's spokesperson.
Elsewhere, VW has suspended operations at a joint-venture plant in Chengdu, capital of southwestern China's Sichuan province, while temporarily shutting down two of five production lines at a factory in Changchun, northeastern Jinlin province, according to a report.
"The resurgence in Covid-19 cases around the country may cause big damage to the automotive industry," said Ivan Li, a fund manager at Loyal Wealth Management in Shanghai. "The government's tax cuts are fuelling sales of vehicles at present, but a disrupted supply chain could slow growth momentum."
Beijing halved the car purchase tax rate from 10 per cent to 5 per cent in June to boost the autos industry, which accounts for one in six urban jobs. The tax incentive is expected to result in additional sales of 1.8 million vehicles this year, according to a May research note by Cheng Siqi, an analyst with China Securities.
China's automobile industry lost 1 million vehicles in production in April amid severe lockdown measures introduced to contain Covid-19 pandemic in Shanghai, the mainland's "Motown" and Chuangchun, a major carmaking production base.
A strained supply chain caused the industry to lose another 400,000 vehicles in production the following month as carmakers were unable to churn out enough units to cater to market demand.
In the first five months of 2022, total vehicle sales in China slumped 12.8 per cent year on year to 7.31 million units, according to data from the China Passenger Car Association. Between June to October, an estimated 1.6 million additional cars were sold due to the tax incentives, the CPCA said.
Analysts have been warning in recent months that stringent virus controls amid Beijing's zero-Covid goal could force more carmakers and component suppliers to suspend part of their production to keep the virus at bay.