Tesla's sales in China jumped nearly 80 percent after the US carmaker slashed prices of the Shanghai-made Model 3 and Model Y vehicles earlier this month, but the discounts might not be enough to revive growth as Chinese rivals follow with price cuts of their own, analysts said.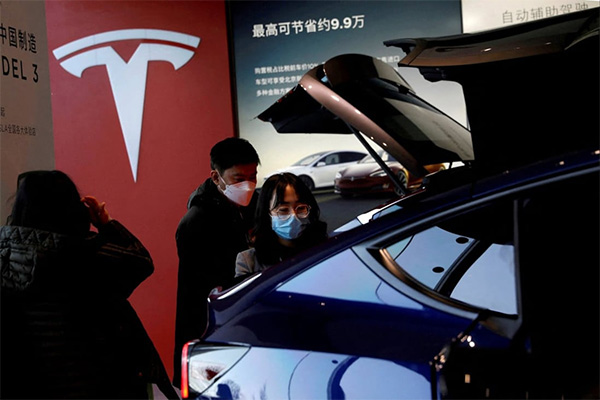 Texas-based Tesla sold 12,654 Model 3 and Model Y vehicles between January 9 and 15, up 76 per cent from the previous seven days, according to data compiled by China Merchants Bank. However, the figure was 14.5 per cent lower than the same period in 2022.
On January 6, Tesla slashed prices of the two models by as much as 13.5 per cent following lacklustre deliveries in December. The discounts followed price cuts of up to 9.4 per cent on October 24. As a result, Tesla's prices have fallen to their lowest levels since the first vehicle rolled off the Shanghai production line in December 2019.
Tesla's discounts have triggered a price war in the mainland's premium EV segment, with its Chinese rivals – Xpeng and Aito, an EV brand backed by telecommunications equipment maker Huawei Technologies – following with price cuts of their own.
On Tuesday, Guangzhou-based Xpeng offered discounts of up to 13 percent on some of its models to make its cars more accessible to Chinese drivers.
Last Friday, Aito offered a 10 per cent discount on the basic edition of its M5 SUV in a bid to take on Model Y. The entry-level M5 now sells for 259,800 yuan, marginally cheaper than the basic edition of the Model Y at 259,900 yuan.
Since late 2022, mainland motorists have been drifting down market towards cheaper EV models, instead of foreign brands like Tesla, unnerved by worries about their job prospects and wages, analysts and dealers said.
In December, Tesla delivered 29,387 Model Ys, a month-on-month decline of 44 per cent, according to data from the China Passenger Car Association (CPCA). Sales of the bestselling premium SUV in China plunged 27.4 per cent on a year-on-year basis.
The carmaker also handed over 12,539 Model 3 sedans to customers last month, 24.5 per cent higher than the 10,069 units in November. But the figure was 58.3 per cent lower than the 30,102 units delivered in the same month in 2021.