MG Motor India continued its electrified powertrain charge with the reveal of the Euniq 7 MPV at the Auto Expo 2023. The Euniq 7 is marketed as the Maxus Mafi fuel cell van in overseas markets (Maxus and MG are part of SAIC) and was the world's first MPV to use a hydrogen-based fuel cell propulsion when it was revealed in 2020.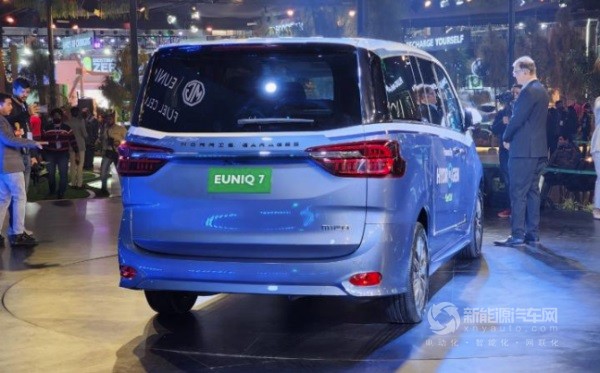 The MG Euniq 7 FCEV has a typical MPV design, with a busy front fascia which has plenty of grille space and large headlamps. The body, too is typically boxy like an MPV, with a large glasshouse and sliding doors. The MPV can seat seven in a 2, 2, 3 configuration. It gets captain seats in the second row. Features include a digital touchscreen, panoramic sunroof, digital instrument cluster and ADAS features.
While the company did not give out details about the powertrain of the Euniq 7. But considering the specifications of the Maxus Mafi FCEV, the MG Euniq 7 should get the same 201bhp output from its electric motor. This draws power from a 6.4kg hydrogen cylinder, with a claimed range of around 600km.
While MG didn't reveal any specifications, in international markets, the Euniq 7 has a peak output of 201hp from its hydrogen fuel cell powertrain. The Euniq 7 gets a 6.4kg hydrogen cylinder, which can be refuelled in a matter of minutes and MG says the MPV has a range of up to 605km. And as is the case with every FCEV, the Euniq 7 only emits water. Hydrogen filling takes minutes, meaning refuelling stops as short as petrol or diesel vehicles. There are no harmful emissions from the MPV, just water.
Along with the Euniq 7, MG also showcased the MG 4 EV and the eHS strong hybrid SUV. Both of these vehicles are being evaluated for India launch. The MPV has been showcased as more of a technology demonstrator, with no concrete plans for launch yet.