Faraday Future Intelligent Electric Inc, a California-based global shared intelligent electric mobility ecosystem company, today announced that the company has signed an Amended and Restated Shareholder Agreement with FF Top LLC, the wholly owned subsidiary of FF Global Partners LLC which is comprised of dozens of core management members. The Company and the China Huanggang Government have also reached the non-binding Cooperation Framework Agreement for promoting its US-China dual-home market strategy.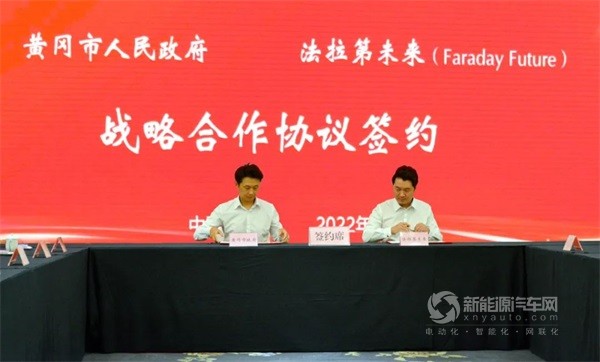 The newly signed Shareholder Agreement solidifies FF Top as an important shareholder with 1:10 super voting rights, subject to shareholder approval, and 1:20 super voting rights when FF's market cap reaches $3 billion, also subject to shareholder approval. FF Top will also have the right to nominate four FF Top designees among seven board seats on the terms and conditions set forth in the Shareholder Agreement, which would provide FF Fop with significant influence on the FF board of directors together with certain financing approval rights. The appointment or nomination for election to the FF Board of any FF Top designee shall be subject to the prior reasonable verification and/or reasonable approval of the Nominating and Corporate Governance Committee of the FF Board subject to certain criteria. FF Top has informed the Company that the additional proposals in the Shareholder Agreement are expected to be submitted to shareholders for approval.
According to the Framework Agreement with the City of Huanggang, FF intends to relocate its future FF China Headquarters there which will support its US-China dual home market and US-China Dual DNA strategy.
In accordance with the Framework Agreement, and in furthering complementary advantages, mutual benefit, and common development, both parties are expected to contribute their respective advantages in investment, scientific and technological innovation, industrial transformation, location, and policy. Huanggang is expected to actively assist FF with the industrial layout in Huanggang City, deployment of relevant resources, while providing support for FF's business ventures in Huanggang City, including but not limited to financial and policy support. Faraday Future intends to relocate its FF China headquarters in Huanggang City, while maintaining its global headquarters in Los Angeles, California. The China headquarters is expected to be jointly funded by the Huanggang Government guide fund, industrial fund, and FF. The Framework Agreement was signed in Q3 of 2022.
FF expects to start production of a saleable FF 91 Futurist at the end of March 2023, coming off the assembly line in early April, with deliveries before the end of April. The Company has completed manufacturing milestone #6 of FF 91 Futurist, the completion of construction and equipment installation in vehicle assembly areas. This marks six of the seven milestones to mark its manufacturing achievements towards the start of production of the FF 91 Futurist. In addition, the FF 91 Futurist has also completed significant upgrades of systems and core components from both the vehicle, and I.A.I area – the advanced core, which stands for Internet, Autonomous Driving, and Intelligence.