Zeekr's new model may not be far from its official launch, and its lower price point will help the Geely-owned electric vehicle maker reach its goal of doubling annual sales.
It has obtained several images of the new Zeekr model, internally codenamed BX1E and possibly to be named Zeekr 003, which is expected to be officially launched at the Shanghai auto show in April this year.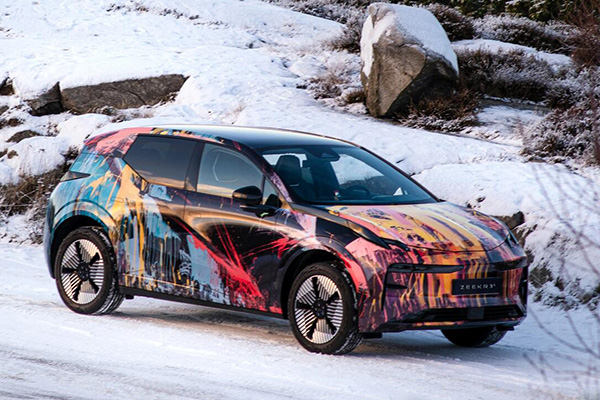 The model has not yet entered the Chinese Ministry of Industry and Information Technology's model catalog, the last major regulatory process for a model to be sold in China, so its main specifications are unknown.
In August 2022, local Chinese media reported that the new Zeekr model was expected to be based on Geely's SEA architecture, as was the Smart #1 SUV, the first electric model from Geely's joint venture with Mercedes-Benz, Smart Automobile.
The front suspension, rear suspension and door proportions of the new model are similar to those of the Smart #1, with a possible length of around 4,270 mm and a possible wheelbase of around 2,750 mm.
The interior of the model will probably be similar to the Zeekr 001 and Zeekr 009 and will have an LCD instrument cluster as well as a floating center screen, these reports said.
Its powertrain is expected to be the same as that of the Smart #1, with a single-motor rear-wheel drive model with a 200-kW motor and 343 Nm of torque.
It could also come with a 66-kWh ternary lithium-ion battery pack, a CLTC range of between 535-560 km and a main model priced between RMB 150,000 and 200,000 yuan, according to these reports.
In March 2021, Zeekr was officially launched as an independent company. On 15 April, the Zeekr 001 was unveiled and is currently offered in four models with a price range of RMB 300,000 to RMB 386,000.
On November 1, 2022, Zeekr officially let its second model, the Zeekr 009, go on sale in China and is currently offered in two versions with starting prices of RMB 499,000 and RMB 588,000 respectively. Deliveries of the model began on January 15 this year.
The smaller size of the new Zeekr model means that it will have lower prices than its predecessors, thus targeting a market with more space.
In 2022, models in the price range of RMB 400,000 or more contributed 3 percent of sales in the Chinese car market, while models in the price range of RMB 300,000 to 400,000 contributed 6 percent, according to a report released by the China Passenger Car Association (CPCA) on December 13.
For comparison, models in the price range of RMB 200,000 to RMB 300,000 contributed 16.2 percent of sales, while models in the price range of RMB 150,000 to RMB 200,000 contributed 19.6 percent of sales.
Zeekr delivered a record 11,337 vehicles in December, taking its 2022 deliveries to 71,941 vehicles and achieving its target of 70,000 vehicles for the year. These deliveries were all contributed by the Zeekr 001.
During the CES 2023 conference earlier this month, Zeekr CEO Andy An said that Zeekr aims to double its sales to around 140,000 vehicles in 2023.