Li Auto appears to be making initial preparations for its transition to pure electric vehicles, although all of its current models are popular extended-range electric vehicles (EREVs).
An 800 V charging station under construction by the new energy vehicle (NEV) maker is seen at a highway service area in China.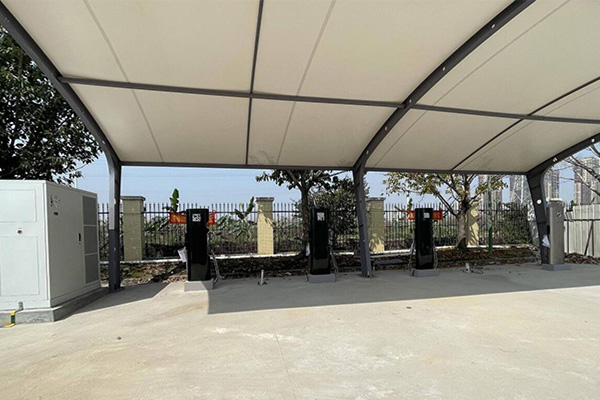 The charging station is located at the Mayong service area on the Guangzhou-Shenzhen Highway, and despite being wrapped, the project overview sign provides some details.
It's an HPC (High Power Charging) supercharging station, part of an energy service company owned by Li Auto in Dongguan, Guangdong.
Construction of the charging station began on November 28, 2022, and is expected to be completed on March 31, 2023, with four charging piles.
All of Li Auto's current models are EREVs, which are essentially PHEVs, but have a longer battery range than conventional PHEVs of nearly 200 kilometers.
The company will let two technology routes develop in parallel, including optimizing range extender efficiency and making pure electric vehicle technology better, Li Xiang, founder, chairman and CEO of Li Auto, said in a media communication last week.
With Li Auto's products using the 800 V silicon carbide high-voltage platform, pure EV models with 80 kWh packs are expected to have a range close to that of regular models with 100 kWh packs and cost nearly the same as EREVs, Li said.
"By 2025, we will accumulate 3,000 supercharging stations, and the total cost will be RMB 10 billion ($1.45 billion)," Li said last week.
For a company with annual revenues on the scale of RMB 100 billion, these costs are not as high as one might think after being spread out through five years, he said.
Li Auto is very confident in the coverage of supercharging piles along highways because China has been encouraging car companies to build supercharging stations since last year, he said.
The company's supercharging stations will be open to other models built on the 800 V platform, ensuring that each peer brand can also charge at a high level of efficiency, according to Li.
"Based on the normal price charged, the supercharger system will certainly not lose money after a smooth operation, and it still depends on its own operations as to how much money it will make," he said.