Tesla China exported 40,479 vehicles in February, up 3.24 percent from 39,208 in January and up 21.50 percent from 33,315 in the same month last year.
That means Tesla delivered 33,923 vehicles in China in February, considering the previously released data showing the electric vehicle (EV) maker sold 74,402 China-made vehicles in February.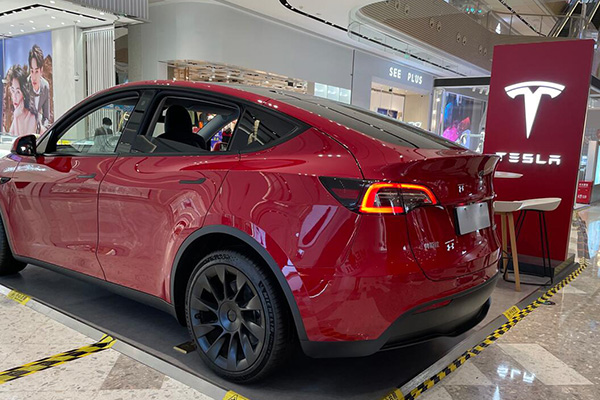 Tesla's Shanghai plant produces the Model 3 sedan as well as the Model Y crossover. Including exports, the China-made Model Y sold 51,412 units and the Model 3 sold 22,990 units in February.
China retail sales of new energy vehicles (NEVs) in February were 439,000, with 295,000 battery electric vehicles (BEVs) sold.
This means that Tesla's share of the NEV market in China was 7.73 percent in February, down from 8.09 percent in January. Its share of the BEV market was 11.50 percent, down from 12.56 percent in January.
Giga Shanghai is Tesla's largest factory in the world, with an annual capacity of about 1.1 million vehicles.
Tesla's revamped Model 3, code-named Highland, is expected to start production in Shanghai in September.
With the Highland, Tesla aims to cut production costs and boost the appeal of the electric sedan, which debuted in 2017.
The new Model 3 will also have changes to its appearance and powertrain performance, with a focus on production efficiency.
In addition to the Model 3, Tesla has separately solicited quotes from suppliers for exterior and interior components for the Juniper Project version of the Model Y, which will go into production next year.
Production of the new Model Y is expected to begin in October 2024, according to one of the people.