On March 10, BYD held a groundbreaking ceremony for the plant in Thailand, as well as a delivery ceremony for the 9,999th and 10,000th BYD Atto 3. The establishment of a passenger car production base in Thailand is one of BYD's key initiatives to accelerate its expansion into the Asia-Pacific market, said Liu Xueliang, general manager of the company's Asia-Pacific automotive sales division.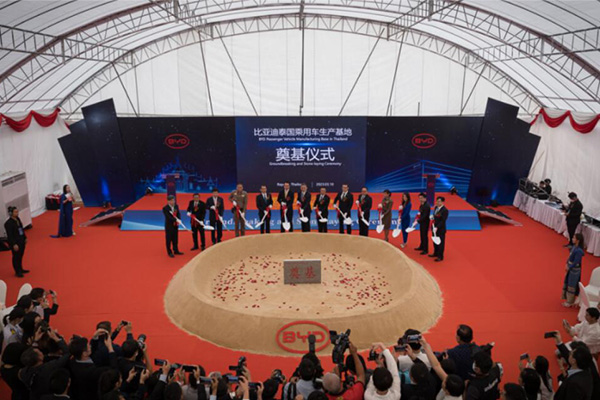 The production base project is located at WHA Rayong 36 Industrial Estate and covers an area of nearly 960,000 square meters. The plant is expected to start production in 2024 with an annual capacity of about 150,000 vehicles.
On September 8, 2022, BYD signed a land purchase agreement with Thai industrial property developer WHA Industrial Development PLC, a subsidiary of the WHA Group, to build a passenger car production plant. The land agreement follows a set of investment commitments approved by Thailand's Board of Investment in August, including BYD's 17.9 billion baht electric vehicle production project.
On October 10, BYD, together with its local partner Rêver Automotive, launched the Atto 3 in Thailand, with sales of the model officially starting in November.
By the end of January, the Atto 3 had 1,352 registrations in Thailand, accounting for 8 percent of the 16,672 registrations of all pure electric vehicles in the country. By the end of February, 3,000 BYD Atto 3 units were registered in Thailand, according to the company.