BYD held a brand launch event in the Ecuadorian capital Quito on May 3 and debuted the Han EV, Yuan Plus EV and Dolphin models in the country. At the event, BYD announced a strategic partnership with Ecuadorian car dealership group Andor Corporation, which will showcase BYD models at three shopping centers -- Quicentro Shopping, Paseo San Francisco and Mall del Sol.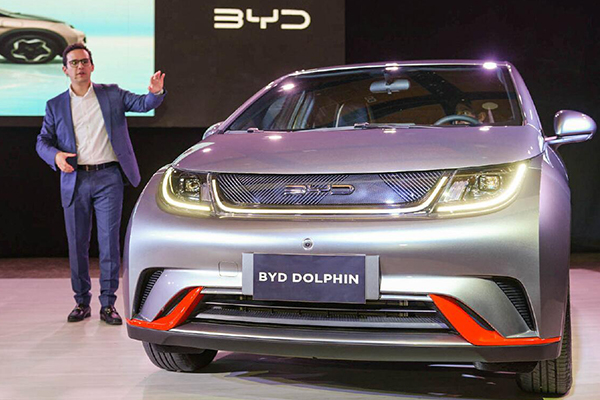 In the next six months, Andor will establish six dealer stores in Quito, Guayaquil and Manta, and plans to expand to 12 by 2024. In the future, BYD will work with local dealers in Ecuador to create a localized sales and service system.
BYD sold 210,295 NEVs in April, up 98.31 percent from 106,042 units in the same month last year and up 1.55 percent from 207,080 units in March. The company stopped production and sales of vehicles powered entirely by internal combustion engines last March to focus on producing plug-in hybrids and pure electric vehicles.
BYD's flagship Han family of sedans sold 14,329 units in April, up 6.77 percent year-on-year and up 5.75 percent from March. The Han family includes the all-electric Han EV and the hybrid Han DM series.
The Yuan family of models sold 39,160 units in April, making it the second highest selling BYD model for the month. The Yuan Plus is BYD's first model for the global market and is known as the Atto 3 in several other markets.
Dolphin sold 30,462 units in April, essentially unchanged from 30,077 units in March and up 153.01 percent from 12,040 units in the same month last year.
In April, BYD sold 14,827 NEVs in overseas markets, up 11.38 percent from 13,312 units in March.