Foreign companies are scrambling to close the gap with Chinese domestic makers of new energy vehicles (NEVs) as demand remains strong in the world's biggest car market where electrification is happening at a rapid pace.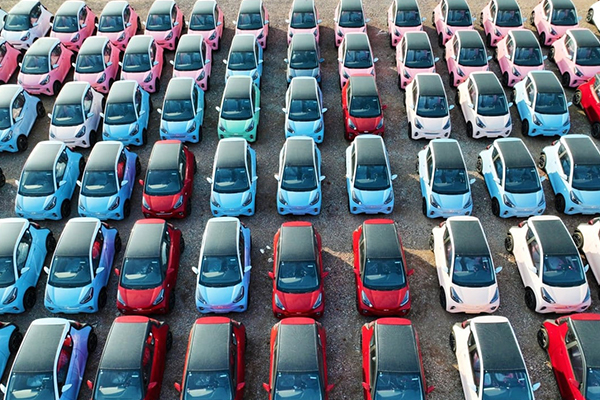 At the Shanghai Auto Show, global majors BMW, Mercedes-Benz and Volkswagen showcased only their new EV offerings. Earlier in April, Volkswagen unveiled a €1 billion centre for development and innovation for electric cars in Hefei with the aim "to align the Group's vehicles even more quickly with the wishes of Chinese customers and to achieve shorter time to market."
China has seen a rapid transformation of its automotive sector toward electrification. NEVs accounted for 25.6 percent of China's total automobile sales last year, up from 4.7 percent in 2019. Fitch Ratings expects electric cars to account for over 35 percent of sales of passenger vehicles this year.
In contrast with the conventional ICE (internal combustion engine) segment, domestic carmakers dominate the EV segment with a massive 81 percent market share, and foreign brands are looking to play catch-up.
Judging by the crowds at the show, the demand is evident. Product differentiation through unique designs and added technology is the primary focus of Chinese brands, especially in the smart NEV segment.
Home-grown brands have successfully targeted younger buyers with new models adorned with the latest technological features, in particular dashboards with touchscreens. These new cars offer attractive connectivity functions and ensure an enhanced user experience for younger drivers.
Chinese brands were followed by German, Japanese and US names in the country's EV market. BYD dominated the market last year with a share of more than 30 percent for battery EVs and 27 percent for plug-in hybrid EVs.
China's push to achieve carbon neutrality by 2060 is expected to further boost the industry. ING expects EVs to account for over half of passenger car sales by 2030. More technological features, more new entrants, and fierce competition as a result of new NEV models suggest that customers are likely to be the biggest winners.