SAIC-GM-Wuling is cutting the prices of several of its mini electric vehicles (EVs), after taking a page out of NIO's book 10 days ago to make these budget EVs more affordable.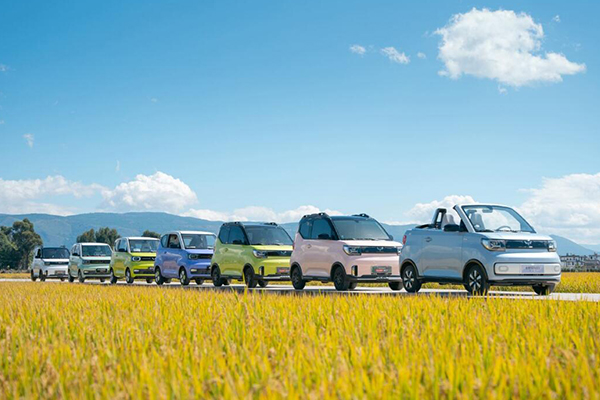 The company announced a price cut of up to 13,000 yuan for models in its Hongguang Mini EV family, saying the move is in response to China's call to boost consumption of NEVs in rural areas.
Last week, China released a policy to support NEV consumption in rural areas, which mentioned that automakers are encouraged to develop more economical models that target the characteristics of consumers in rural areas.
A table released by SAIC-GM-Wuling shows that an Air EV, originally priced at RMB 82,800, saw a price drop of RMB 13,000, or 15.70 percent, to RMB 69,800, the largest price cut for its Mini EV family. The other three Air EVs have all seen their prices cut by RMB 10,000, with the latest prices at RMB 66,800, 65,800 and 57,800 respectively.
SAIC-GM-Wuling's better-known Mini EV series has four models all reduced in price by RMB 6,000, with the latest prices at RMB 63,800, RMB 61,800, RMB 51,800, and RMB 49,800 respectively.
It sells vehicles based on the GSEV (Global Small Electric Vehicle) architecture in China, including the Mini EV, KiWi EV, Nano EV and Air EV. In addition to these pure electric models, SAIC-GM-Wuling also sells fuel-powered SUVs, MPVs and vans.
The Air EV will be officially launched in China on December 12, 2022, with a price range of RMB 67,800-82,800. The model is SAIC-GM-Wuling's first global model, which was first launched in Indonesia in August last year.
Prior to the price cut, SAIC-GM-Wuling took a page from NIO's book and allowed consumers to purchase the Hongguang Mini EV with a body only and lease the battery, although the model does not support simple battery replacement like NIO models.
The automaker offers this purchase option for five versions of the Hongguang Mini EV, with the lowest-priced version costing consumers an initial payment of just RMB 19,800 and a monthly battery lease of RMB 198 for the next five years.
Under the regular purchase option, this version of the Hongguang Mini EV is priced at RMB 32,800.