Japanese auto giant Honda's joint venture with Dongfeng Motor in China has started exporting cars, which is expected to allow China to see further growth in auto exports.
Dongfeng Honda began shipping a shipment of new energy vehicles (NEVs) from Shanghai to Europe on May 15, opening a new chapter in the joint venture's overseas endeavors.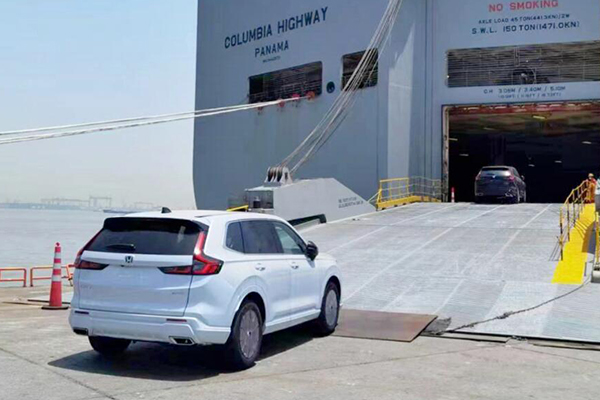 The vehicles are the hybrid Honda CR-V as well as the all-electric e:NS1, and they will be shipped to several European countries, according to a press release from Dongfeng Honda.
They include 300 CR-V plug-in hybrids, which are expected to arrive at the Belgian port of Zeebrugge in late June, after which they will be shipped to about two dozen countries, including the UK, Ireland, Iceland, Greece and Portugal, Dongfeng Honda said, without disclosing the number of e:NS1s.
Honda held a launch event for the company's electrification efforts in China on October 13, 2021, to officially unveil its pure electric vehicle brand e:N, where the "e" stands for Energize and Electric and the "N" refers to New and Next.
The brand's two production models, Dongfeng Honda's e:NS1 and GAC Honda's e:NP1, made their debut in China at that time.
Dongfeng Honda made the e:NS1 officially available in China on April 27, 2022, when it was priced at RMB 175,000 to RMB 218,000.
Dongfeng Honda began exporting vehicles from China at a time when Chinese auto exports have been growing rapidly over the past two years.
In March, 387,000 vehicles were exported from China, up 88.78 percent year-on-year and 19.44 percent from February