Zeekr, the premium electric vehicle (EV) subsidiary of Geely Holding Group, has seen the first production cars of the Zeekr 001 FR (Future Road) roll off the production line, three days before the official launch of the electric supercar.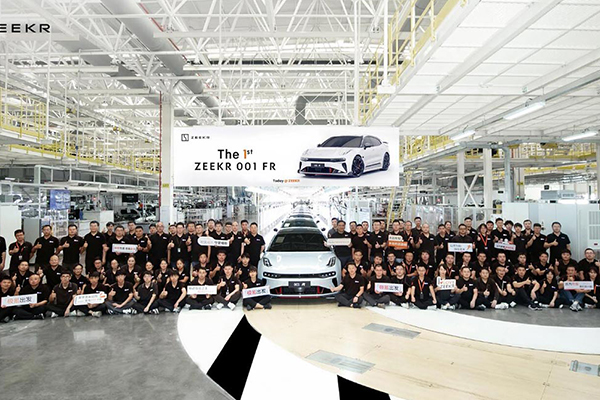 Zeekr announced the development on Weibo, saying that the launch of the model -- a high-performance variant based on its first production car, the Zeekr 001 shooting brake -- took place on October 27 at 19:30 local time in Beijing.
Zeekr made the model's debut on September 1, saying it could sprint from 0 to 100 kilometers per hour in 2.07 seconds.
The Zeekr 001 FR is powered by a quad-motor that delivers up to 1,265 horsepower, surpassing the Tesla Model S Plaid's 1,020 horsepower.
Deliveries of the electric supercar will begin in October, with a limited production run of 99 units per month, Zeekr said at the September 1 event.
Zeekr has yet to announce a price for the Zeekr 001 FR, though it said when it previewed the model on August 10 that it would sell for more than 1 million yuan.
There are currently four versions of the Zeekr 001 on sale, two of which start at RMB 269,000, and the other two at RMB 319,000 and RMB 349,000 respectively, after Zeekr announced on August 11 a significant discount available until the end of the year.
Zeekr has two other models on sale -- Zeekr 009 MPV, and Zeekr X urban SUV. Its three models delivered 12,053 vehicles in September, up 45.64 percent year-on-year while down 2.03 percent from August.