Jiyue, a co-brand of Baidu and Geely, has entered into a strategic partnership with CATL, becoming the latest local electric vehicle (EV) automaker to partner with the Chinese power battery giant.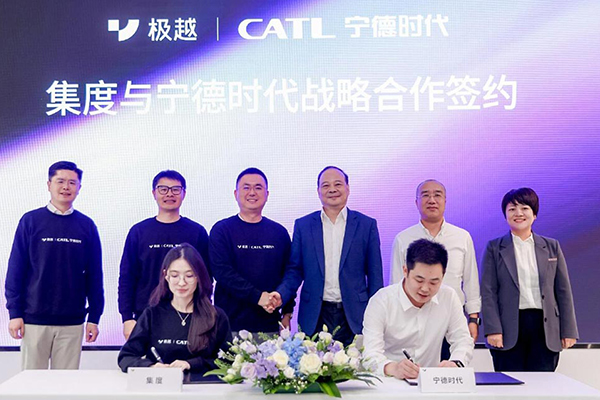 Jiyue and CATL signed a strategic cooperation agreement on October 21 to jointly promote the research and development of new energy vehicle (NEV) products and mass production.
CATL is providing high performance power battery products and services for the robocar Jiyue 01, the power battery giant said.
CATL will continue to provide support to Jiyue, including new projects and new technology partnerships, and the supply of Shenxing ultra-fast charging batteries.
Shenxing Battery is a battery based on lithium iron phosphate (LFP) chemistry that CATL unveiled on August 16 to support ultra-fast charging. Several local automakers have already said they will use the battery.
Jiyue was renamed from the brand formerly known as Jidu, a joint venture between Geely and Baidu set up in March 2021, with Baidu holding a 55 percent stake and Geely holding 45 percent.
On August 15, Geely announced that it was launching a new brand, Jiyue, with Baidu. On the same day, the Jiyue 01 entered a filing catalog with China's Ministry of Industry and Information Technology (MIIT).
The operating entity of the Jiyue brand is 65 percent owned by Geely, with the remaining 35 percent owned by an affiliate of Baidu.
Jiyue announced on September 19 that the Jiyue 01 became available for pre-sale, with a starting pre-sale price of 259,900 yuan.