On September 16, 2022, Evergrande Group announced that Hengchi 5 is being mass-produced at the Tianjin plant, and the car will be delivered in October. In August 2022, Hengchi 5 also officially announced the price of 179,000 yuan, and the new car only offers one configuration version.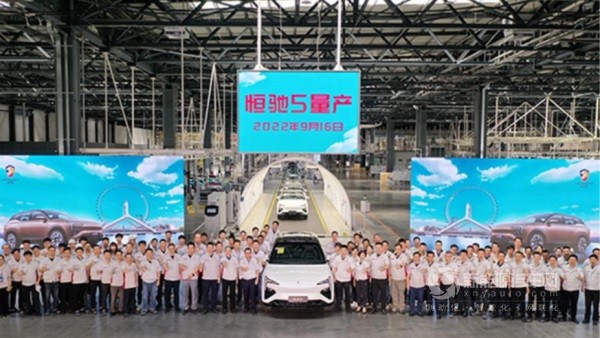 Hengchi 5 is positioned as a compact pure electric SUV with a CLTC comprehensive cruising range of 602km. The new car started pre-sale on July 6, 2022,and the cumulative pre-sale orders had exceeded 37,000 units by the end of July 29, according to the official news.
The total motor power of Hengchi 5 is 150kW and the total torque is 345N·m. The cruising range of the car is 602km for CLTC, and the acceleration from 0-100km/h is 7.8 seconds. Hengchi 5 adopts CATL lithium iron phosphate battery with the capacity of 72.8kWh. According to Liu Yongzhuo, president of Hengchi Automobile, the market response of Hengchi 5 was very good and even better than expected.